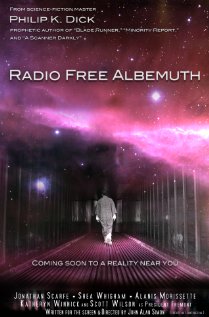 Up into now, the film Radio Free Albemuth has only been shown and available at special events like the Philip K. Dick Festival, the Hugo Awards at Worldcon, Science Fiction Hall of Fame induction ceremonies in Seattle, and in the near future at the Indie Night Series at Lincoln Center Film Society in New York.
The film has received excellent reviews and when screening the film, it has received an enthusiastic response. Unfortunately the major distribution companies have not selected this film for wide spread release. The filmmakers believe that there is an audience who would like to view Radio Free Albemuth, and have been trying since 2010 (when the film was completed) to show the film as often as was possible but many potential audience members are still denied access to see it. I am one of these frustrated potential audience members who because of geography, haven't been able to attend any of the locations Radio Free Albemuth has been screened.
Because of these reasons the filmmakers have decided to try the self-distribution (DIY) route. Like many frustrated artists, writers, filmmakers, etc., they have created a Kickstarter project to raise the money to distribute Radio Free Albemuth to a wider audience. The link to the Kickstarter project is http://www.kickstarter.com/projects/elizabethkarr/radio-free-albemuth-theatrical-release. Please help support the distribution of this film. From what I have heard and read it is the most faithful adaptation of any of Philip K. Dick's novels.
Here are some links for more information about Radio Free Albemuth not coming from the filmmakers:
http://www.imdb.com/title/tt1129396/
http://en.wikipedia.org/wiki/Radio_Free_Albemuth_%28film%29
http://www.rottentomatoes.com/m/radio_free_albemuth_2011/
The filmmakers have been advertising Radio Free Albemuth in social media in addition to the press they receive at the events where the film is shown.:
http://www.radiofreealbemuth.com/
http://www.facebook.com/rfamovie
Click on the image below to play a short from the filmmakers about this project: