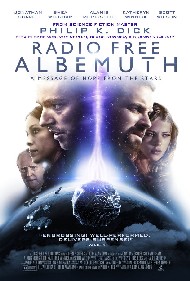 Here are locations that you can view Radio Free Albemuth online:
Both found on the Radio Free Albemuth's web site.

Also, the film is available on [Your Local Cable Company's] Video On Demand.

I also discovered the film on
Amazon Instant Video

I'm delighted to see that it is also still in theaters:

South Lamar Theatre
Alamo Draft House in Austin, Texas
Late Shows August 29 and August 30

Jean Cocteau Cinema in Santa Fe, New Mexico
Opening August 29, Radio Free Albemuth will play for one week.

Tickets for both theatres are available at the Radio Free Albemuth Screenings page.

If there are other locations to view Radio Free Albemuth, please leave a comment and I'll add them to the list. As far as I know, there are no more theaters scheduled to show the movie.
More information can be found at the Radio Free Albemuth Screenings page or at the Radio Free Albemuth Facebook page.