After the successful Kickstarter campaign many Philip K. Dick fans have been waiting (im)patiently for Radio Free Albemuth to arrive in theaters and eventually on DVD. Along with the announcement of a new trailer for the film, the release date has been announced as June 27, 2014.
From the press release sent out a few days ago: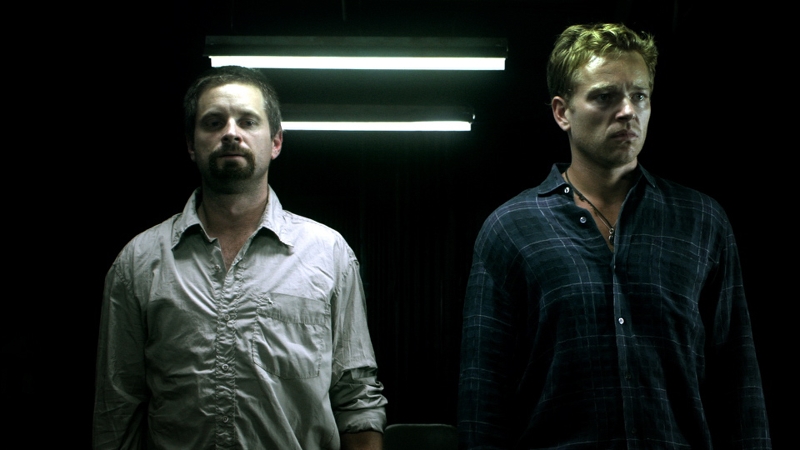 NEW TRAILER DEBUT FOR 'RADIO FREE ALBEMUTH'

PHILIP K. DICK NOVEL 'RADIO FREE ALBEMUTH' COMES TO THEATERS VIA FREESTYLE
Shea Whigham, Alanis Morissette, Jonathan Scarfe & Katheryn Winnick Star in Sci-fi Tale Set for Day and Date Release on June 27th, 2014
A new trailer is now available for the film. Please see the two links below for the trailer:
YouTube: http://youtu.be/ovH_-mQxCok
Yekra: http://www.yekra.com/radio-free-albemuth
Los Angeles, CA (May 6, 2014) – Freestyle Releasing and Freestyle Digital Media (FDM) announced today that they have acquired theatrical and all DVD/VOD rights to the science fiction thriller RADIO FREE ALBEMUTH, which is based on a Philip K. Dick novel and was directed and adapted by John Alan Simon. The film stars Jonathan Scarfe ("Perception," "Grimm"), Shea Whigham ("Boardwalk Empire"), Katheryn Winnick ("Vikings") and world renowned recording artist Alanis Morissette ("Weeds"). Supporting cast includes Scott Wilson ("Walking Dead"), Ashley Greene ("Twilight"), Jon Tenney ("The Closer," "Scandal") and Rich Sommer ("Mad Men"). The film was produced by Dale Rosenbloom, Stephen Nemeth and Elizabeth Karr along with Simon and will debut in limited theaters and on all digital platforms on June 27, 2014.
From sci-fi author Philip K. Dick (Blade Runner, Minority Report, A Scanner Darkly) comes his most personal and prophetic thriller to date. It's 1985 in an alternate reality and Berkeley record store clerk Nick Brady (Jonathan Scarfe, Perception) begins to experience strange visions transmitted from an extra-terrestrial source he calls VALIS. He uproots his family and moves to Los Angeles where he becomes a successful music executive with a secret mission to overthrow the oppressive government led by US President Fremont (Scott Wilson – The Walking Dead). With the help of his best friend, sci-fi writer, Philip K. Dick himself (Shea Whigham – Boardwalk Empire, American Hustle) and a beautiful, mysterious woman named Silvia (Alanis Morissette – Weeds), Nick finds himself drawn into a conspiracy of cosmic, mind-shattering proportions. Although it might cost them their freedom or even their lives, they join
forces to expose the dangerous truth about the corrupt regime.
FDM's CEO Susan Jackson brokered the deal directly with Simon's Discovery Productions, which will join forces with FDM on the release. Discovery was repped in the deal by Matthew Fladell, Esquire.
"Philip K. Dick is a legend in the sci-fi world," said Jackson, "Radio Free Albemuth" is one of the truest adaptations of his vision and will be loved by his core fans as well as fans of the genre."
"The big-budget, effects-heavy studio movies made from Dick's works have often emphasized one 'high concept' idea to try to create exciting action movies. I took the indie route in order to have the freedom to make a movie that captures all the other aspects that reader/fans like myself love – Dick's dark humor, politics, visionary metaphysics, borderline paranoia, and especially his tender view of the human condition," said Simon.
The source novel for the film was considered to be Dick's answer to Orwell's 1984 and is still one of his most prescient works — a powerful sci-fi conspiracy thriller that underlines the conflict of individual rights against the power of the state.
The following is a list of Dick's highest profile screen adaptations:
Blade Runner (1982) from Do Androids Dream of Electric Sheep? (1968)
Total Recall (1990) from We Can Remember It for You Wholesale (1966)
Minority Report (2002) from The Minority Report (1956)
A Scanner Darkly (2006): adapted from novel of the same name
Adjustment Bureau (2011) from story Adjustment Team
Total Recall (Summer 2012) from We Can Remember It For You Wholesale
Recent Freestyle titles include the box office hit GOD'S NOT DEAD, TIGER EYES, the first big screen adaptation of a Judy Blume novel starring Willa Holland, and the SXSW festival favorite FUNERAL KINGS from the McManus Brothers and the upcoming THE IDENTICAL starring Ashley Judd and Ray Liotta.
Website: www.freestyledigitalmedia.tv
About Freestyle Releasing:
Freestyle Releasing is a full-service, theatrical motion picture distribution company that specializes in representing independent companies, major studios, and mini-major studios for the purpose of exhibiting their films in a first class theatrical release. The founders and principals of Freestyle Releasing, Mark Borde and Susan Jackson are highly regarded and experienced motion picture veterans with a combined total of over a century of respected work in the industry. From a platform that delivers an anytime-anywhere capability in the medium of their choice and a positive digital viewing experience on any device in any location.
About Freestyle Digital Media
Freestyle Digital Media, LLC was launched in November 2011 by its CEO Susan Jackson who is Co-President and founder of independent theatrical distributor Freestyle Releasing, LLC and North American sales company Turtles Crossing, LLC. Freestyle Digital Media supplies quality commercial film and TV content directly to all US VOD/SVOD rental DVD/Kiosks and theaters using the latest cloud-based technologies to automate digital workflow. Freestyle's goal is to provide fresh, well-marketed product and stay on the cutting edge of the ever-compressing windows to ensure that their partners benefit from a platform that delivers an anytime-anywhere capability in the medium of their choice and a positive digital viewing experience on any device in any location.
About Discovery Productions
Discovery Productions is a production company that primarily specializes in movie adaptations. Development projects include other Philip K. Dick properties ("Flow My Tears The Policeman Said" and "VALIS"), Jim Thompson novels ("Nothing More Than Murder" and "Pop 1280") as well as novels and short stories by Hugo-Award winning author Lucius Shepard. The distribution arm of Discovery has successfully rereleased cult classics like the original "The Wicker Man", "The Haunting of Julia" and Dennis Hopper's "Out Of The Blue."
Here is the new trailer at youtube:
Copyright © 2014 Prodigy Public Relations, All rights reserved.