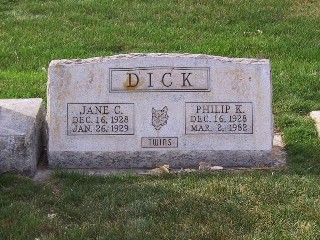 Philip K. Dick (1928 – 1982) – Find A Grave Memorial
Philip K. Dick obituary in the New York Times
(Original Link: Philip K. Dick obituary in the New York Times, The New York Times, March 3, 1982)
DIED. Philip K. Dick, 53, prolific, sometimes visionary science-fiction writer, whose multilayered stories probed the discrepancies between illusion and reality; of a stroke; in Santa Ana, Calif. The characters in his 50 novels (Flow My Tears, the Policeman Said) were often ordinary people trapped in extraordinary circumstances whose distorted perceptions prevented them from realizing their own dilemmas. The task of the science-fiction writer, said Dick, "is creating multiverses, rather than a universe."
Source: Time Magazine: March 15, 1092, p. 92.
Philip K. Dick, 54, award-winning author of 35 science-fiction novels and six short-story collections; of complications following a stroke, in Santa Ana, Calif., March 2. Dick, whose works are distinguished by deftly crafted, believable characters trapped in an uncertain world, won the 1962 Hugo Award – voted on by American scifi fans – for his novel "The Man in the High Castle."
Source: Newsweek: March 15, 1982, p. 87.