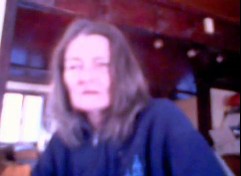 There is an youtube video (http://www.youtube.com/watch?v=jvF2XMD7fks) circulating the fan base in which Tessa Dick, Philip K. Dick's Fifth Wife, pleads for financial help because she is struggling much more than many of us are. She is disabled and waiting on the paperwork to be processed which takes some time.
If you would like to make a donation to her, send it to her by Paypal to tuffy777@gmail.com or snail mail:
Tessa Dick
PO Box 1942
Crestline, CA 92325-1942

But if you would rather not donate directly, I would strongly encourage you to purchase one of her books. I don't believe that one biography, one viewpoint can describe someone's life. With the recent publication of the Exegesis of Philip K. Dick, one excellent choice is Remembering Firebright because she was present when he was experiencing and writing about the events in the Exegesis. I am reading it right now and the second viewpoint on events that I have become familiar with from Philip K. Dick's telling is fascinating. Without the other viewpoints, we risk falling into solipsism like Dick was fond of writing and considering.
You can purchase her books at Tessa's Amazon Author Page. A review of Remembering Firebright will be posted on soon.