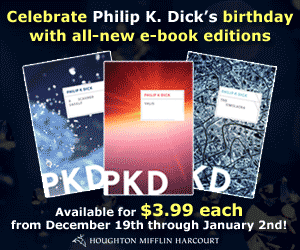 I was recently contacted by the Houghton Mifflin Harcourt to pass on this sale and other special offers in the to come. This offer ends soon so if you would like the eBook editions act fast. I should be notified earlier in the future.
Starting Monday (December 19th) for a limited time, all new eBook editions of PKD novels from Houghton Mifflin Harcourt are only $3.99.
Available at all major retailers, including Amazon.com, Apple iBookstore, Barnesandnoble.com, Google eBookstore, and more.
Titles on sale include:
The Divine Invasion (9780547601199)
Lies, Inc. (9780547601212)
Now Wait for Last Year (9780547601298)
A Scanner Darkly (9780547601311)
The Simulacra (9780547601304)
The Three Stigmata of Palmer Eldritch (9780547601328)
The Transmigration of Timothy Archer (9780547601335)
VALIS (9780547601342)
All titles are $3.99 from 12/19/2011-1/2/2011
For more information visit http://hmhtrade.com/pkdick/