Credits Navigation philipdick.com Novels Short Stories References




FIRST PUBLICATION
Amazing Stories, Aug 1966 {ill. by Gray Morrow}
HISTORY:
"Your Appointment Will Be Yesterday" is another of PKD's short stories that not much has been written about. The manuscript arrived at the SMLA on Aug 27, 1965 and the story was first published in Amazing Stories in Aug 1966 where it was the feature story. Later in 1965 PKD would expand this story into the novel COUNTER-CLOCK WORLD.
The story was never reprinted until THE COLLECTED STORIES in 1987.
As in COUNTER-CLOCK WORLD, the Hobart Phase – a reversal of time – causes things to run backwards. People rise from the grave, food is thrown up to uncongeal on plates and eventually return to the earth. A government agency has the impossible task of 'uninventing' things so history has no loose ends as it progresses backwards. The problem is that the 'swabble' must be uninvented but as the time nears for the inventor's first manuscript to be destroyed the world is thrown into an infinite regression and its destruction cannot be accomplished without also destroying the Hobart Phase. This plot device is similar to PKD's handling of Zeno's paradox in "The Indefatigable Frog."
The character 'Bard Chai' from PKD's 1953 short story "The Turning Wheel" makes a reappearance here but although he is still of the Bard class the setting of the story is completely different in "Your Appointment Will Be Yesterday."
An interesting but awkwardly handled plot means that "Your Appointment Will Be Yesterday" gets only ó ó ó
---
Other Magazine and Anthology Appearances. More Cover Pix here: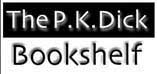 | | | | |
| --- | --- | --- | --- |
| 1967 | | COUNTER-CLOCK WORLD {expanded into novel} | |
| 1987 | | THE COLLECTED STORIES OF PHILIP K. DICK, Vol.5 | |
| | | | |
NOTES:
---
Collector's Notes
Ken Lopez: "Your Appointment Will Be Yesterday" in Amazing Stories, Aug 1966. VG. Signed by the author. Rubbed, about VG in wrappers. $135
Massoglia Books: "Your Appointment Will Be Yesterday" in Amazing Stories, Aug 1966. ?. $10
---
Credits Navigation philipdick.com Novels Short Stories References