Credits Navigation philipdick.com Novels Short Stories References





| | | | | | |
| --- | --- | --- | --- | --- | --- |
| | Writing Date | Pub. Date | Previous | Next | Notes |
| 91 | <Apr 10, 1963 | Jan 1964 | | | 12,100 wds |
FIRST PUBLICATION
If, Jan 1964 {ill. by Finlay}
HISTORY:

The next story to reach the SMLA after "Novelty Act" was "Waterspider." This arrived almost a month later on Apr 10, 1963. It was published in If in the Jan 1964 issue. After inclusion in THE COLLECTED STORIES in 1987, the story was chosen by Mike Resnick for his anthology INSIDE THE FUNHOUSE: 17 SF Stories About SF (1992).

As "Waterspider" included some prominent science fiction writers of the day and mention of some of their works – including Philip K. Dick himself, the editor at If, Fred Pohl, thought it necessary to get releases from some of Dick's fellow writers before publishing the story. In regards to this, PKD wrote to Pohl on June 23, 1963:

In answer to your letter of June 14, I talked to Poul Anderson and he will send a release to you regarding his part in my story WATERSPIDER. As to Kris Neville ... I think the solution there is for you to do this (and I'm not joking; please believe me). Remove the word "Kris" in the sentence "Kris is stoned again" and put in "Phil" so it reads "Phil is stoned again." Okay? It could be thought to refer either to me or to Philip Jose Farmer.
I think we can take a chance on the others, although if you are further worried you could delete the statements made by Ray Bradbury; that's all I'm at all concerned about, myself.

"Waterspider" is a fascinating story including as it does mention of many science fiction writers and editors who attended the Science Fiction Worldcon in San Francisco in 1954. Besides Philip K. Dick himself and his stories "The Variable Man", "The Defenders" and "The Mold Of Yancy," it also mentions about twenty of his contemporaries in 1954.

Of the stories mentioned in "Waterspider", there is one anomaly at least. This is mention of a story by Poul Anderson titled "The Fisher Of Men" which supposedly was published in the May 1971 edition of If. Well, as PKD wrote "Waterspider" in 1963 how could he know that Anderson's story appeared in the May 1971 issue of If? If it ever did? On this point I have been unable to check the details not having a copy of this issue of If or even knowing whether Poul Anderson ever wrote a story titled "The Fisher Of Men."

Another interesting point is that in the same issue of If in which "Waterspider" first appeared, the cover story is "Three Worlds To Conquer" by Poul Anderson. And the cover illustration is by Virgil Finlay. A strange coincidence…

As to the letter from PKD to Fred Pohl quoted immediately above, on reading the story one notes that Kris Neville is mentioned only once and only by his first name and there is no mention of either he or PKD being stoned. Philip Jose Farmer is not mentioned at all. So, by the time of publication either PKD or Fred Pohl had edited some of the story out.

The story itself takes place in the future as well as in the past of 1954 and the Worldcon held in San Francisco that year. In the future, a society is trying to perfect interstellar travel but is having problems and even though it's only convicts who are the dying guinea pigs – and there's plenty of those to spare – they wish to solve the problem. To do this they turn to the Library of Congress which has complete files of all the science fiction magazines published in the Twentieth Century. But to these futurians these magazines contain not fiction but the views of precogs living at that time. What in 1954 was considered fiction is in the future considered fact.

To cut a long summary short, the futurians decide that Poul Anderson in his precog story "Night Flight" has the solution to their space travel needs. They send a time dredge back to the days of the Worldcon in 1954 and kidnap Anderson and bring him to the future. There they make him write "Night Flight" including their desired solution. But, when they send him back to 1954 they must wipe his brain clean of all memories of the future and by doing so they also remove their own memories of ever having brought him forward in the first place. The problem of interstellar flight remains unsolved.

As a fun sort of story full of inside jokes and real-life science fiction characters "Waterspider" rates ó ó ó ó

In April, 1963, when he submitted "Waterspider", PKD learned that he had won The Hugo Award for Best Science Fiction Novel of the year, 1962.
---
Other Magazine and Anthology appearances. More Cover Pix here: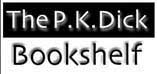 | | | |
| --- | --- | --- |
| 1987 | | THE COLLECTED STORIES OF PHILIP K. DICK, Vol.4 |
| 1992 | | INSIDE THE FUNHOUSE, Avon Nova, pb, ?, 1992,? (?) {Ed. Resnick} |
| | | |
NOTES:

SL:38 71

Dear Fred,

In answer to your letter of June 14, I talked to Poul Anderson and he will send a release to you regarding his part in my story WATERSPIDER. As to Kris Neville ... I think the solution there is for you to do this (and I'm not joking; please believe me). Remove the word "Kris" in the sentence "Kris is stoned again" and put in "Phil" so it reads "Phil is stoned again." Okay? It could be thought to refer either to me or to Philip Jose Farmer.
I think we can take a chance on the others, although if you are further worried you could delete the statements made by Ray Bradbury; that's all I'm at all concerned about, myself.

Cordially, PKD {PKD>Fred Pohl, Jun 23 1963}

{Note: PKD's story "Waterspider" features Poul Anderson as one of the main characters. PKD refers also to himself and his stories, "The Variable Man", "The Defenders" and "The Mold Of Yancy." He also mentions several other science fiction writers of the period (Murray Leinster, A.E.Van Vogt, Margaret StClair, etc.). I get the impression that PKD visited the WorldCon held in the Bay Area in 1964 and met all these people and wrote this story -- although it was printed in If in the January 1964 issue... Lord RC}
---
Collector's Notes
Ken Lopez: "Waterspider" in If, Jan 1964 (1st). VG. Signed by the author. Owner name front cover. Minor watermarks throughout. $125
Rudy's Books: "Waterspider" in If, Jan 1964 (1st). VG. $7.50
Rudy's Books: "Waterspider" in If, Jan 1964 (1st). G+. $4.50
---
Credits Navigation philipdick.com Novels Short Stories References