Credits Navigation philipdick.com Novels Short Stories References






Writing Date

Pub. Date

Previous

Next

Notes

90

<Mar 23, 1963

Feb 1964

MS title: "At Second Jug"
12,900 wds
FIRST PUBLICATION
Fantastic, Feb 1964 {ill. by Lutjens}
HISTORY:
Almost a month after mailing in the manuscript for "If There Had Never Been A Benny Cemoli" Dick sent in the Novelette "At Second Jug." This arrived at the SMLA on Mar 23, 1963 and it was sold to Fantastic where it appeared under the title "Novelty Act" in the Feb 1964 issue. The back cover illustration by Lutjens complements the story.
Between the time of its initial publication and 1987, the story was anthologized twice, in William F. Nolan's THE HUMAN EQUATION in 1971 and in Martin Greenburg's selection from the annals of Fantastic: FANTASTIC STORIES: Tales Of The Weird And Wonderful, in 1987.
In mid 1963 PKD would expand "Novelty Act" into the novel FIRST LADY OF EARTH (published as THE SIMULACRA).
At almost 13,000 words "Novelty Act" is a long story and the length is necessary to tell the tale. In a crowded future people live in huge communal apartment buildings where rules of conduct are strict and rigidly enforced by councils made up of the tenants. The main goal of the tenants is to produce entertainers who will be spotted by White House talent agents and who will then go on to entertain the First Lady, Nicole Thibodeaux, at the White House in person. Nicole, adored by the Nation, is not quite what she seems and when two brothers who play classical jug music use a copy of a telepathic Martian papoola – a lifeform now extinct – to win one of the coveted spots on the program, things start to go wrong. Loony Luke, the owner of a string of fly-by-night jalopy lots (guaranteed to get you to Mars if you're lucky), who is about to be put out of business by Nicole's police, takes control of the fake papoola and has it bite Nicole during the jug act. The jug artists escape and in the end are on their way, jalopy-wise, to Mars.
"Novelty Act" is a good story – funny too -- and may be even better than THE SIMULACRA. It rates ó ó ó ó ó
---
Other Magazine and Anthology appearances. Click here for Cover Pix: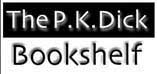 | | | | |
| --- | --- | --- | --- |
| 1964 | | THE SIMULACRA {expanded into novel} | |
| 1971 | | THE HUMAN EQUATION, Sherbourne, tp, ?,?,? (?) {Ed. Nolan} | |
| 1971 | | THE HUMAN EQUATION, Sherbourne, tp, ?,?,? (?) {Ed. Nolan} | |
| 1987 | | THE COLLECTED STORIES OF PKD | |
| 1987 | | FANTASTIC STORIES: Tales Of The Weird And Wonderful, TSR, ?,?,?, (?) {Ed. Greenberg, Price} | |
| | | | |
NOTES:
---
Collector's Notes
Ken Lopez: "Novelty Act" in Fantastic, Feb 1964 (1st). VG. Signed by the author. Owner name front cover. $135
Rudy's Books: "Novelty Act" in Fantastic, Feb 1964 (1st). G-VG. $5
Ebay (Nov 2000): "Novelty Act" in Fantastic, Feb 1964 (1st). 0 bids. $6
Phildickian: "Novelty Act" in THE HUMAN EQUATION {Ed. William F. Nolan}, Sherbourne Press, 1971. NF/VG. With authoritative biographical prefaces. The book is clean and tight with barely visible shelf wear. Internally clean and free of markings. The dust jacket is edge-worn with tearing to the rear panel. Still presentable and covered with a brodart. $25
---
Credits Navigation philipdick.com Novels Short Stories References