Credits Navigation philipdick.com Novels Short Stories References






| | | | | | |
| --- | --- | --- | --- | --- | --- |
| | Writing Date | Pub. Date | Previous | Next | Notes |
| 72 | <Dec 30, 1953 | 1954 | | | 8300 wds |
FIRST PUBLICATION
Beyond Fiction #9, 1954
HISTORY:
Arriving at the SMLA just before the new year on Dec 30, 1953, "Upon The Dull Earth" was first published in Beyond #9 in 1954. Later, it was selected by Rich & Cowan for their 1955 collection A HANDFUL OF DARKNESS and was also included in the 1969 Ace collection, THE PRESERVING MACHINE.
This is a fantasy story and one of PKD's best. A witchy girl, Sylvia, invites alien 'angels' into her life using animal blood as an attractant. But when she inadvertently cuts herself one day she cannot stop the 'angels' from taking her with them. Her boyfriend doesn't like it and decides to try and bring her back. This he does but things don't turn out the way he hoped as now all the world seems to be nothing but Sylvia. And when he looks in the mirror…
PKD's biographer, Greg Rickman, in a fan poll run by the fanzine For Dickheads Only sees "Upon The Dull Earth" as PKD's "most important story… More for its importance for Phil's future work and for understanding him, than in objective quality (though it's damn good)"
If Phil ever wrote a horror story, this must be it. OutrÚ and unsettling "Upon The Dull Earth" rates
ˇ ˇ ˇ ˇ ˇ
---
Other Magazine and Anthology appearances. More Cover Pix here: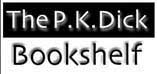 | | | | |
| --- | --- | --- | --- |
| 1955 | | A HANDFUL OF DARKNESS, Rich & Cowan, hb, ?,?,? (?) | |
| 1969 | | THE PRESERVING MACHINE And Other Stories Ace, pb, 67800, ?,? (?) | |
| 1974 | | THE 2nd MAYFLOWER BOOK OF BLACK MAGIC STORIES, Mayflower, ?. ?,?, (?) {Ed. Parry} | |
| 1987 | | THE COLLECTED STORIES OF PKD, Vol.3 | |
| 1988 | | FINE FRIGHTS, Tor, ?,?,?,? (?) {Ed. Campbell} | |
| ??? | | ANGELS! Ace, pb, ?, 1995, 225pp, $4.99 (Den Beauvais) {Ed. Dann, Dozois} 0-441-00220-X, | |
| | | | |
NOTES:
Fan fave: Most Important Story: "Upon The Dull Earth". More for its importance for Phil's future work and for understanding him, than in objective quality (though it's damn good) -- Gregg Rickman, CA
---
Collector's Notes
Ken Lopez: "Upon The Dull Earth" in Beyond #9, 1954 (1st). FAIR. . Signed by the author. Waterlogged; signature blurring. $85
Rudy's Books: "Upon the Dull Earth" in Beyond #9, 1954 (1st). VG. $7
---
Credits Navigation philipdick.com Novels Short Stories References