Credits Navigation philipdick.com Novels Short Stories References




| | | | | | |
| --- | --- | --- | --- | --- | --- |
| | Writing Date | Pub. Date | Previous | Next | Notes |
| 26 | <Aug 14, 1952 | Winter 1954 | | | MS title: "Globe From Ganymede" |
FIRST PUBLICATION
Thrilling Wonder Stories, Winter 1954
HISTORY:
"Prize Ship" was titled by PKD "Globe From Ganymede" when he sent it off to the Agency. It arrived there three days after "Colony" on Aug 14, 1952. The story is an overt homage to Jonathon Swift's Brobdignagian and Lilliputian tales. For a melding of fantasy and science fiction it comes off well, bringing in a relativistic explanation for everything at the end.
As in "Stability," "Project: Earth," "The Little Movement" and "The Crystal Crypt," Philip K. Dick works with themes of scale: the big and the small.
After its first printing in Thrilling Wonder Stories in the Winter of 1954, the story lay idle until THE COLLECTED STORIES. It has been little commented on.
Terra is at war with Ganymede again and its looking pretty grim as Earth's outlying colonies on Proxima start running out of supplies. Things pick up though when Terra captures the latest Ganymedean spaceship. Using the ship a squad of Terrans takes off for they know not where. When they finally land and encounter miniature men who immediately attack them, the commander realises that they are in Lilliputia.
Twisting the unfamiliar dials of their ship in the opposite direction the intrepid Terrans determine to go and find Brobdignag. In the end, though, is the ship really a spaceship – or something else?
A confusing homage to Jonathon Swift, "Prize Ship" rates ô ô ô
---
Other Magazine and Anthology Appearances. Click here for Cover Pix: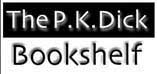 | | | | |
| --- | --- | --- | --- |
| 1987 | | THE COLLECTED STORIES OF PHILIP K. DICK | |
| | | | |
NOTES:
---
Collector's Notes
---
Credits Navigation philipdick.com Novels Short Stories References