| | | | | | |
| --- | --- | --- | --- | --- | --- |
| | Writing Date | Pub. Date | Previous | Next | Notes |
| 47 | <Mar 17, 1953 | May 1954 | | | 7000 wds |
FIRST PUBLICATION
Planet Stories, May 1954
HISTORY
"James P. Crow" reached the SMLA on Mar 17, 1953. It found a home in Planet Stories in May 1954. This story was little known as it appeared nowhere else until THE COLLECTED STORIES in 1987.
It's unpopularity was too bad as this is an excellent satire on racism wherein humans are now become the slaves of robots. Cowed by impossible tests and grumbling about it, humanity can't quite figure out what to do with themselves until one of their kind, Jim Crow, starts passing the robots' tests and is put in a position of power. Besides its ironic reversal of roles, the story is fast-paced and well told.
This is one of the stories historian Thomas Clareson sees as significant for its foreshadowing of "the direction science fiction was to take in social criticism in the 1960s and 1970s.
"James P. Crow" rates ô ô ô ô ô.
---
Other Magazine and Anthology appearances. Click here for Cover Pix: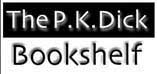 | | | | |
| --- | --- | --- | --- |
| 1987 | | THE COLLECTED STORIES OF PHILIP K. DICK | |
| | | | |
| | | | |
NOTES:
TTHC 263
{...} historian Thomas Clareson has singled out two of them {the early short stories}("The Infinities" and "James P. Crow"), as significant works, the latter story in particular for its foreshadowing of "the direction science fiction was to take in social criticism in the 1960s and 1970s."19
{fn19: Thomas Clareson, "Planet Stories," in Tymn and Ashley, Science Fiction, Fantasy, and Weird Fiction Magazines, 479-80).}
RFPKD # 7 p19
…DreamWorks (Spielberg-Katzenberg-Geffen) has optioned PKD's short story "James P. Crow", apparently convinced that it can be turned into a 'technological Planet Of The Apes," according to Wired news online…
---
Collector's Notes
---
Credits Navigation philipdick.com Novels Short Stories References