Credits Navigation philipdick.com Novels Short Stories References
THE BROKEN BUBBLE





| | | | | | | | |
| --- | --- | --- | --- | --- | --- | --- | --- |
| NUM | N | S | DATE WRITTEN | DATE PUBLISHED | PREVIOUS | NEXT | NOTES |
| 102 | 14 | | <13 Nov 1956 | Jul 1988 | | | |
FIRST EDITIONS
Arbor House, hb, 012-8, 1988, 246pp, $16.95, (Powers) {1-55710-012-8}
Gollancz, hb. 04434-9, 1989 Jul, 246pp, L12.95 (Richard Jones) {0-575-04434-9}
HISTORY
The manuscript for THE BROKEN BUBBLE OF THISBE HOLT reached the SMLA on Nov 13 1956. The reviewer at the SMLA saw it as a
Typical Dick novel, desperately needs cutting, reorganizing, clarifying.
And he commented further:
Too complicated to synopsize, but gen. Has to do w/sterility of modern life (displaced people, vacuity of advertising, lack of standards). Disc jockey divorced fr wife because he was sterile "adopts" yg married teen-age couple. Ex-wife has affair w/ young hubby, yg wife wants to share her strength & coming child w/ d.j. At end both couples inextricably bound up w/ ea other.
The names of two of the main characters in the story– Jim Briskin and Thisbe Holt—are used in other PKD stories (earlier: "Stand-By" and "What'll We Do With Ragland Park?" and later: THE CRACK IN SPACE)
Well received by reviewers in 1988, BUBBLE is now a favorite – together with MARY AND THE GIANT and CONFESSIONS OF A CRAP ARTIST – with fans of PKD's straight writing. Andy Watson, publisher of GATHER YOURSELVES TOGETHER, has this to say about BUBBLE in a fan poll run by the zine For Dickheads Only in 1994:
The best of the straight novels, this one serves up more tension and anxiety than any of the others, while still managing to be playful in the manner PKD virtually trademarked. The parody of the sci-fi "fans" and the short story written by one of them, embedded in the story somewhat gratuitously, are nearly unique in all of PKD's writings, and are entirely welcome as a diversion, as a time-marking device, in order to pace the rest of the book to best advantage. This is PKD's "coming of age" novel, and as with everything else he wrote, his take on this form is utterly unique.
When published in 1988 at the peak of PKD's posthumous popularity, THE BROKEN BUBBLE received mixed reviews. The New York Times Book Review didn't care for it but John Clute writing in the Times Literary Supplement liked it.
Here's a fine synopsis of the story courtesy of Andrew M. Butler:
San Francisco. Jim Briskin is suspended from his radio programme for refusing to read an advert over the air. He meets Art and Rachael Emmanuel, a teenaged married couple, and is so taken by them that he introduces his ex-wife Pat to them. Pat gets Art to take her for a drive and they have sex at Twin Peaks. Jim, concerned that Rachael will go after Pat, starts having his meals with Rachael and avoids being seduced by her. Pat, alternating between leading Art on and rejecting him, decides that she does want to be with Jim after all. Art, who has narrowly avoided arrest for an action by a group of sf fan revolutionaries, is wrongly arrested for vandalism involving a plastic bubble full of rubbish which has been dropped from a hotel. Jim stands him bail, and later takes Rachael to have her baby.
PKD had this to say about BUBBLE in his 1960 letter to Eleanor Dimoff:
I estimate this to be a marred work -- marred by a romantic sentimentality. It is a Quixotic novel; not the protagonist but the author was the tilter at windmills. But it has style, some good characters, good scenes. It is not funny. It is full of fear, apprehension, and hate. I identify with the most helpless, the most defenseless and weak persons in society -- the kids. Pathetic idealism, plus an almost morbid imagination, are the keys in this book. It is a bad dream, but possibly true. As Mailer says, "The shits are killing us." The institutions of society are cruel; it is Kafka's law courts without the religion and mysticism.
BUBBLE is a lot of fun to read, with the sub-text of the crazed science fiction fans (including a short story written by one of the fans) and the naked Thisbe Holt being rolled around a hotel room to the delight of drunken conventioneers. I'd give it ô ô ô ô
---
OTHER EDITIONS For Cover Pix Click Here: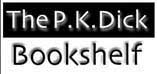 Ultramarine, hb, ?, 1988, ?, ? (?)
Ultamarine, hb, ?, 1988, ?, ? (?) {Leather}
Paladin, tp, 09066-5, 1991, 246pp, L4.99 (Chris Moore) 0-586-09066-5
FOREIGN EDITIONS
| | | |
| --- | --- | --- |
| | | 10/18 Domaine Etranger, pb, 2390, 1993, ?, ? (?) }tr. into French by Isabelle Delord-Phillipe as LA BULLE CASEE} ISBN: 2-264-01770-8 |
---
NOTES

PKDS-15 7

THE BROKEN BUBBLE. David Hartwell at Arbor House announces that Arbor House will bring out another previously unpublished experimental mainstream novel by PKD, THE BROKEN BUBBLE in the Spring of 1988...

THE BROKEN BUBBLE was originally called THE BROKEN BUBBLE OF THISBE HOLT, and was apparently written in 1956, after MARY AND THE GIANT and before PUTTERING ABOUT IN A SMALL LAND.

PKDS-18 7

THE BROKEN BUBBLE was published in July, a month later than scheduled, by Arbor House/William Morrow.

Fan fave: " THE BROKEN BUBBLE. The best of the straight novels, this one serves up more tension and anxiety than any of the others, while still managing to be playful in the manner PKD virtually trademarked. The parody of the sci-fi "fans" and the short story written by one of them, embedded in the story somewhat gratuitously, are nearly unique in all of PKD's writings, and are entirely welcome as a diversion, as a time-marking device, in order to pace the rest of the book to best advantage. This is PKD's "coming of age" novel, and as with everything else he wrote, his take on this form is utterly unique."{Andy Watson}

PKDS-20 19

The New York Times Book Review

, didn't think much of THE BROKEN BUBBLE, which had its first British hardcover from Gollancz in July. Gollancz and Grafton/Paladin have been PKD's most loyal English publishers during the past decade or more; now Malcolm Edwards, who was in charge of the science fiction at Gollancz (and has been a great champion of and sometime correspondent with PKD) has moved over to be science fiction editor at Grafton. We thank him for all the great things he did for PKD at Gollancz, and wish him well in his new position.

PKDS-26 17

John Clute writes intelligently and sympathetically about THE BROKEN BUBBLE ("much of the book is astonishingly funny") in the Times Literary Supplement, Dec 8, 1989. He thinks the publisher should have kept the original title (THE BROKEN BUBBLE OF THISBE HOLT)

PKDS Pamphlet #1 7

{...} BROKEN BUBBLE OF THISBE HOLT. I estimate this to be a marred work -- marred by a romantic sentimentality. It is a Quixotic novel; not the protagonist but the author was the tilter at windmills. But it has style, some good characters, good scenes. It is not funny. It is full of fear, apprehension, and hate. I identify with the most helpless, the most defenseless and weak persons in society -- the kids. Pathetic idealism, plus an almost morbid imagination, are the keys in this book. It is a bad dream, but possibly true. As Mailer says, "The shits are killing us." The institutions of society are cruel; it is Kafka's law courts without the religion and mysticism.

{... ...}

{PKD>Eleanor Dimoff, 01 Feb 1960}{See: A TIME FOR GEORGE STAVROS for more from this letter . Complete text can be found in PKDS Pamphlet #1 or THE SELECTED LETTERS OF PKD:1938-1971}

See TTHC 309 - 310

See FDO #4, 1993

See PEPKD 25
---
Collector's Notes
Phildickian: THE BROKEN BUBBLE, Arbor House, hb, 012-8, 1988 (1st). VF/VF. $75
Powells: THE BROKEN BUBBLE, Arbor House, hb, 012-8, 1988 (1st). Used. $30
Barry Levin: THE BROKEN BUBBLE, Ultramarine, hb, 1988. FINE. Ultramarine binding variant, lettered state. Limited to 26 LETTERED COPIES, SIGNED BY TIM POWERS AND JAMES BLAYLOCK who wrote the introduction and the afterword. Bound in full brown leather with gilt stamping on front cover, spine lettered in gilt. This limited issue was produced under contract with Arbor House and was bound up from their first edition sheets, making the Ultramarine issue a variant of the first edition (while not the first issue); it is also the first limited edition. Fine (not issued in dust jacket). $800
Phildickian: THE BROKEN BUBBLE, Gollancz, hb, 434-9, 1989 (1st UK). VF/VF. Beautiful copy in like dust jacket. $50
---
Credits Navigation philipdick.com Novels Short Stories References