Credits Navigation philipdick.com Novels Short Stories References






| | | | | | |
| --- | --- | --- | --- | --- | --- |
| | Writing Date | Pub. Date | Previous | Next | Notes |
| 84 | <Dec 22, 1954 | Jan 1956 | | | 16,700 wds |
FIRST PUBLICATION
Fantastic Universe, Jan 1956
HISTORY:

The manuscript for "The Minority Report" reached the SMLA on Dec 22, 1954. This was a week before the Agency received the manuscript for THE WORLD JONES MADE. At almost 17,000 words "The Minority Report" can be considered a novelette rather than a short story. It was first published in Fantastic Universe in Jan 1956.

The story was selected for PKD's first USA collection THE VARIABLE MAN in 1957. It would be another thirty years before it reappeared in THE COLLECTED STORIES where it gave its name to the title of the fourth volume. After that, when interest in the Stephen Spielberg movie began to grow, "The Minority Report" was republished in 2000 in the UK and in 2002 a small hardback edition of the story alone was issued by Pantheon at a price of $12.95! Almost as much as PKD got paid for the first publication.

The movie, THE MINORITY REPORT, directed by Spielberg and starring Tom Cruise and Sean O'Farrell, was released in May 2002 to worldwide acclaim and box-office bonanza (the movie was the largest grossing movie on its premiere weekend, bringing in over $36 million).

Little early comment was made on the story although, since the release of the movie in 2002, both the story and the movie have been voluminously written about. A visit to philipdick.com reveals several reviews of the movie which can be found in such publications as The New York Times.

This story set in the near future revolves around the establishment of the new government entity called Precrime. By using mutant precogs the police authorities can preview who will commit future crimes; the suspects, guilty before they act, can then be arrested and their crimes prevented. Trouble is, John Anderton, the director of the new agency, is himself pre-fingered for murder, and either way you look at it the status of the Precrime Agency itself is in jeopardy. But is Anderton being set up? And if so by whom?

A particularly relevant story in post-9 11 America, "The Minority Report" earns ó ó ó ó ó

"The Minority Report" was the last story sent to the SMLA in 1954, and one of only eleven submitted during the year. However, Dick had had published 29 stories. The last of these appeared in December: "Prize Ship", "Strange Eden" and "The Father-Thing."
---
Other Magazine and Anthology appearances. More Cover Pix here: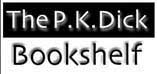 | | | | |
| --- | --- | --- | --- |
| 1957 | | THE VARIABLE MAN, Ace, pb, ?, 1957, ?, ? (?) | |
| 1987 | | THE COLLECTED STORIES OF PHILIP K. DICK, Vol.1, Citadel Twilight, tp, ?, 1989, ?, (?) | |
| 1999 | | THE MINORITY REPORT, Vol.4 of THE COLLECTED STORIES, Gollancz, ?, ?, 1999, ?,?,? (?) | |
| 2000 | | THE MINORITY REPORT, Orion UK, pb, 947-3, 2000, ?, $22.50 (?) | |
| 2002 | | THE MINORITY REPORT, Gollancz, hb, ?, 2002, ?, ? (?) | |
| 2003 | | MINORITY REPORT, ?, ?, 2003, ?, ? (?) | |
| | | | |
NOTES:
SRG 44
... The three precogs in "The Minority Report" live vegetable-like lives, strapped to chairs and wired to recording machines. However, in this story Dick holds a brief not for human rights but against the misuse of information by the authorities who employ the precogs' gifts. ... {Hazel Pierce}
---
Collector's Notes
Phildickian: "The Minority Report" in THE MINORITY REPORT, Citadel Twilight, tp, 1991. G. . First trade paper edition. Heavy reading stress, but still bound and intact. $15
Abebooks: "The Minority Report" in THE MINORITY REPORT, Gollancz, hb, 2002. FINE/FINE. Film tie-in collecting nine of the author's short stories. $30
Biblion: "The Minority Report" in THE MINORITY REPORT, Orion UK, pb, 947-3, 2000. NEW. $22.50
---
Credits Navigation philipdick.com Novels Short Stories References