| | | | | | |
| --- | --- | --- | --- | --- | --- |
| | Writing Date | Pub. Date | Previous | Next | Notes |
| 112 | Accept. Jan4, 1969 | Oct 1969 | | | |
FIRST PUBLICATION
Fantasy & Science Fiction, Oct 1969
HISTORY:

"The Electric Ant" was written after Nov 15, 1968 and the manuscript reached the SMLA on Dec 4, 1968. The story was accepted at F & SF on Jan 4, 1969.

It all started with a Nov 2, 1968 letter from Edward L. Ferman, editor at F & SF, requesting from PKD a short story for the upcoming 20th anniversary issue of F& SF.

PKD replied to Marcia M. Howell at the SMLA on Nov 15, 1968:

This letter is in answer to Ed Ferman's request that I do a short story for the twentieth anniversary issue of F&SF. I would very much like to, and I hope you will tell Mr. Ferman this. However, I won't be able to get to it right away ... but I am sure it will be done by the April first deadline.

F&SF is a fine magazine and published some of my best stories. Also, it was the first magazine to buy a story from me; F&SF launched me on my career as a professional writer. So I very much want to do this... despite the fact that I have not done any magazine-length material for several years.

Thank Mr. Ferman for his request, and thank you, too, for passing it along to me. I'm sure the issue will be excellent.

"The Electric Ant' was published in Oct 1969 in F & SF.

The story is a popular one, with many anthology appearances, including Harry Harrison and Brian Aldiss' BEST SF: 1969 published in 1970. It was also selected for Ballantine's PKD collection THE BEST OF PHILIP K. DICK in 1977. More anthologies followed before it was published for the last time in THE COLLECTED STORIES.

It is also a favorite of many fans; in the poll run by FDO, Gregg Rickman selects "The Electric Ant" as his fave short story:

Best Story (for its formal perfection, and in so well displaying Phil's characteristic themes and strengths): "The Electric Ant." -- Gregg Rickman, CA

Of the story PKD said this:

Again the theme: How much of what we call 'reality' is actually out there or rather within our own head? The ending of this story has always frightened me ... the image of the rushing wind, the sound of emptiness. As if the character hears the final fate of the world itself"

"The Electric Ant" is a good story and thought-provoking as well. It tells the tale of Garson Poole who after a squib crash discovers he is not a man but an android; an electric ant as they're called. Determined to free himself from his programming he opens his chest compartment and examines his 'reality tape'. This is a micro-punched tape that slowly unreels beneath a miniature scanner. Poole experiments with the tape, blocking holes, cutting strips out, turning bits around. In the end he decides to remove a strip altogether and let total reality into his perceptions. Though technicians warn him not to do this he goes ahead and is burned out by the multi-sensory totality of perceptions that now flood him. The question is, if Poole's reality is changed does everyone else's stay the same?

This is another example of PKD's fake reality stories, and one of the best. "The Electric Ant" has
ó ó ó ó ó on my reality tape.
---
Other Magazine and Anthology appearances. More Cover Pix Here: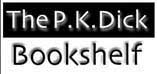 | | | | |
| --- | --- | --- | --- |
| 1970 | | THE YEAR'S BEST SF #3, Sphere, pb, ?,?,? (?) {Ed. Aldiss, Harrison} | |
| 1970 | | BEST SF: 1969, Putnams, hb, ?,?, $5.95 (?) {Ed. Aldiss, Harrison} | |
| 1974 | | WINDOWS INTO TOMORROW, Hawthorn, hb, ?,? $6.95 (?) {Ed. Silverberg} | |
| 1975 | | WINDOWS INTO TOMORROW, ?, Pinnacle, ?,?,? (?) | |
| 1977 | | THE BEST OF PHILIP K. DICK, Ballantine, pb, 25359, 1977, ?,?(?) | |
| 1977 | | DECADE: THE 1960's, MacMillan, hb, ?, 1977, ? L3.95 (?) {Ed. Aldiss, Harrison} 333-19002-5 | |
| 1979 | | THE ANDROIDS ARE COMING, Elsevier-Nelson, hb, ?,?, 1979, ?, $7.95 (?) {Ed. Silverberg} | |
| | | | |
| | | | |
| 1983 | | SPACE ODYSSEY, ?, ?, ?,1983, ?, ?, (?) | |
| 1984 | | ROBOTS, ANDROIDS AND MECHANICAL ODDITIES, SIUP, hb, ?,?,? (?) {Ed. Warrick} | |
| 1984 | | MACHINES THAT THINK, Holt, Rinehart & Winston, hb, ?,?,? (?) {Ed. Asimov, Greenberg, Warrick} | |
| 1987 | | THE COLLECTED STORIES OF PHILIP K. DICK | |
| 1991 | | WAR WITH THE ROBOTS, Wings, ?, 1991, ?,? (?) | |
| 2000 | | THE ANDROIDS ARE COMING, Cosmos, ?, 2000, ?,? (?) {Ed. Silverberg} | |
| | | | |
NOTES:

Accepted at F & SF on Jan 4, 1969 (Gordon van Gelder in email to Lord RC, Feb 2003)

Levack 91 Again the theme: How much of what we call 'reality' is actually out there or rather within our own head? The ending of this story has always frightened me ... the image of the rushing wind, the sound of emptiness. As if the character hears the final fate of the world itself

Fan fave:

Best Story (for its formal perfection, and in so well displaying Phil's characteristic themes and strengths): "The Electric Ant." -- Gregg Rickman, CA

BGSU Papers

{This letter}Requests a short story to be published in the 20th anniversary issue (Oct 1969) of The Magazine of Fantasy and Science Fiction. {Edward L. Ferman > PKD, 2 Nov 1968}

BGSU Papers

Dear Marcia,

This letter is in answer to Ed Ferman's request that I do a short story for the twentieth anniversary issue of F&SF. I would very much like to, and I hope you will tell Mr. Ferman this. However, I won't be able to get to it right away ... but I am sure it will be done by the April first deadline.

F&SF

is a fine magazine and published some of my best stories. Also, it was the first magazine to buy a story from me; F&SF launched me on my career as a professional writer. So I very much want to do this... despite the fact that I have not done any magazine-length material for several years.

Thank Mr. Ferman for his request, and thank you, too, for passing it along to me. I'm sure the issue will be excellent.

Cordially {Philip K. Dick {PKD > Marcia M. Howell, SMLA, 11-15-1968}
---
Collector's Notes
Phildickian: "The Electric Ant" in BEST SF: 1969 {Ed. Harrison, Aldiss}, Putnam's, hb, 1970. VG/VG. The book is tight with moderate shelfwear and bumping at the spine ends (no fraying). The dust jacket is rubbed, with creasing to the spine ends, and soiling to the rear panel. The dj is still free of chips rips & tears, covered with a brodart. $15
Alibris: "The Electric Ant" in BEST SF: 1969 {Ed. Harrison, Aldiss}, Berkley, pb, N1982, 1971. VG. Corner creases. $4.95
---
Credits Navigation philipdick.com Novels Short Stories References