Number

Writing Date

Pub. Date

Previous

Next

Notes

69

<Oct 29, 1953

Jul 1954

MS title: "Foundling Home"
2800 wds
FIRST PUBLICATION
Imagination, Jul 1954 {ill. by W. E. Terry}
HISTORY:
"Foundling Home" arrived at the SMLA on 29th Oct 1953. It was published in Imagination in July 1954 under the title "The Crawlers." After selection by Ace books for their 1969 PKD collection THE PRESERVING MACHINE, it went mostly unnoticed until THE COLLECTED STORIES.
In this story pitiful human mutant children who look like grubs with human faces are rounded up by the authorities and transported to a distant island where it is hoped they will live out their lives in peace and away from normal human habitations. Somewhat like groundhogs, the mutants delve deep under the island and expand their territory to the mainland. That's when the real building will begin. But… some of the Crawler offspring just don't look normal to their mutated parents.
"The Crawlers" rates ó ó ó
---
Other Magazine and Anthology appearances. More Cover Pix here: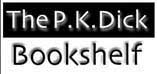 | | | | |
| --- | --- | --- | --- |
| 1969 | | THE PRESERVING MACHINE And Other Stories, Ace, pb, 67800, Apr 1969, 317pp, $0.95 (Leo and Diane Dillon) [CG: - A146] | |
| 1976 | | YOU AND SCIENCE FICTION, National Textbook Co., tp, ?, 1976, 349pp (?) {Ed. Hollister} | |
| 1987 | | THE COLLECTED STORIES OF PKD | |
| | | | |
NOTES:
---
Collector's Notes
Ken Lopez: "The Crawlers" in Imagination, Jul 1954 (1st). NF. Signed by the author. $150
---
Credits Navigation philipdick.com Novels Short Stories References