| | | | | | |
| --- | --- | --- | --- | --- | --- |
| | Writing Date | Pub. Date | Previous | Next | Notes |
| 19 | <Jul 23, 1952 | Dec 1953 | | | 4500 wds |
FIRST PUBLICATION
Amazing, Dec 1953 – Jan 1954
HISTORY:

The manuscript for "The Builder" arrived at SMLA on July 23, 1952 and seems to be the first of a flood of short stories that Philip K. Dick sent to Scott Meredith at the SMLA in the second half of 1952. Once having found an agent PKD didn't believe in being idle, committed as he now was to becoming a professional science fiction writer. The sub-Agent at the SMLA commented (in capital letters) "IT ISN'T SCIENCE FICTION' but, nonetheless, as Gregg Rickman notes, 'rated it "G plus"' and sent it to Atlantic and Harper's magazines. Of course, it ended up at Amazing where it belonged. Altogether, this story appeared in Amazing three times: the first appearance in the USA version of the magazine in 1953; then in the English version in April of 1954 and, finally, twelve years later, in the June, 1967 edition. "The Builder" was collected in PKD's first anthology A HANDFUL OF DARKNESS published by Rich & Cowan in 1955.

"The Builder" isn't much of a story: a man and his son, under some personal sense of doom, construct a vast ark in their back yard. The ending is inevitable and obvious. It rates ô .
---
Other Magazine and |Anthology Appearances More Cover Pix Here: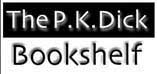 1954 apr
AMAZING (UK), Vol 1. #3
1955
A HANDFUL OF DARKNESS, Rich & Cowan, hb, ?,?,? (?)
1967 Jun
AMAZING
1987
THE COLLECTED STORIES OF PKD
1998
MORE AMAZING STORIES, Tor, hb, ?, 1998, 320pp, $24.95 (Eggleton) Ed. Kim Mohan} 0-312-86473-6
NOTES:
Manuscript to SMLA Jul 23, 1952
TTHC 264:
"The Builder," a tale of a modern day Noah, about which its sub-agent wrote in capital letters "IT ISN'T SCIENCE FICTION" but nonetheless rated "G plus," was tried at the Atlantic and Harper's before landing at Amazing.
---
Collector's Notes
Rudy's Books: "The Builder" in Amazing, Dec 1953- Jan 1954 (1st). VG-FINE. $12.50
Rudy's Books: "The Builder" in Amazing, Dec 1953- Jan 1954 (1st). VG. $8.50
---
Credits Navigation philipdick.com Novels Short Stories References