Credits Navigation philipdick.com Novels Short Stories References



Writing Date

Pub. Date

Previous

Next

Notes

94

Apr 18, 1963

Oct 1963

MS title: "Top Stand-by Job"
6,000 wds
FIRST PUBLICATION
Amazing, Oct 1963 {ill. by Schelling}
HISTORY:
Originally titled "Top Stand-By Job" the story that would become "Stand-By" on publication in the Oct 1963 Amazing plopped in the mail slot at the SMLA on Apr 18, 1963. The back cover of this Amazing illustrates Dick's story and has a short quote.
In 1966 the story was adapted into Dick's novel THE CRACK IN SPACE. It has been occasionally anthologized since and was selected for the PKD collection THE PRESERVING MACHINE (1969) under the title "Top Stand-By Job."
"Stand-By" can be read in conjunction with PKD's story "What'll We Do With Ragland Park?" which has many of the same characters in a later situation.
In "Stand-By" Earth is being invaded by unknown beings from outer space and the United States – still the top military power – is being governed by a giant computer in Washington D.C. Of course, there's a human stand-by president who has just died and is to be replaced by Max Fischer, the selection of the Union boys in Chicago. Unfortunately, just as Max assumes his do-nothing stand-by job the aliens knock out the computer and Max has to assume office for real.
But no sooner is he installed than he faces political opposition in the form of Jim-Jam Briskin, the System's top news-clown. With thousands of TV outlets and billions of faithful viewers Briskin calls for an election which he knows he will win. But Max Fischer isn't about to go down without fighting; he's had a taste of real power and he's not going to give up his presidency lightly, alien invasion or no.
A pointed little story, "Stand-By" rates ó ó ó
See: "What'll We Do With Ragland Park?"
---
Other Magazine and Anthology appearances More Cover Pix Here: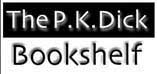 | | | | |
| --- | --- | --- | --- |
| 1966 | | THE CRACK IN SPACE {expanded into novel} | |
| 1969 | | THE PRESERVING MACHINE, Ace, pb, 67800, Apr 1969, 317pp, $0.95 (Leo and Diane Dillon) [CG: - A146] {As "Top Stand-By Job"} | |
| 1977 | | INSIDE INFORMATION, Addison-Wesley UK, ?,?,?,? (?) {Ed. Mowshowitz} | |
| 1981 | | WHAT IF? Vol.2, Pocket Books, pb,?, Feb 1981 ,? (?) {Ed. Lupoff} | |
| 1987 | | THE COLLECTED STORIES OF PKD | |
| | | | |
NOTES:
---
Collector's Notes
Ken Lopez: "Stand-By" in Amazing Stories, Oct 1963 (1st). NF. Signed by the author. $165
---
Credits Navigation philipdick.com Novels Short Stories References