Credits Navigation philipdick.com Novels Short Stories References






| | | | | | |
| --- | --- | --- | --- | --- | --- |
| | Writing Date | Pub. Date | Previous | Next | Notes |
| 34 | <Nov 3, 1952 | Nov 1954 | | | 6200 wds |
FIRST PUBLICATION
If, Nov 1954 (ill. by Ralph Castenir)
HISTORY:
"Progeny," arrived manuscript-wise at the SMLA on Nov 3, 1952, the same day as the ms for "Some Kinds Of Life." It was published in If in the Nov 1954 issue.
After its initial showing in If, "Progeny" was selected for Rich & Cowan's UK collection, A HANDFUL OF DARKNESS, published in 1955; PKD's first collection. It seems to have been a popular story for editors of the burgeoning academic science fiction market in the mid 1970s, being selected for two anthologies aimed at this audience. And after this nothing until inclusion in the second volume of THE COLLECTED STORIES.
Philip Dick must've been in a bad mood when he wrote these last two stories. "Some Kinds Of Life" is a nasty sideswipe at the car of capitalism while "Progeny" is a vicious slap at 'family values' and what we today call political correctness. This is a different tone from anything he has expressed before in his previous short stories. Even with "Nanny," where he'd come close to hitting both targets: family values and consumerism, he'd held back a bit. But in these stories he doesn't hold back.
"Progeny" rates ô ô ô ô ô
---
Other Magazine and Anthology Appearances. Click here for Cover Pix: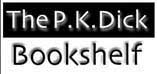 | | | | |
| --- | --- | --- | --- |
| 1955 | | A HANDFULL OF DARKNESS, Rich & Cowan, hb, ?,?,?(?) | |
| 1974 | | SCHOOL AND SOCIETY THROUGH SCIENCE FICTION, Rand-McNally, tp, ?,?,? (?) {Ed. Olander, Greenburg} | |
| 1976 | | MARRIAGE AND THE FAMILY THROUGH SCIENCE FICTION, St. Martin's, tp, ?, 1976 358pp, $9.95 (?) {Ed. Clear, Warrick, Greenberg, Olander} LCC: 75-38023 | |
| 1987 | | SECOND VARIETY, not in Citadel Twilight edition | |
| 1990 | | WE CAN REMEMBER IT FOR YOU WHOLESALE, Citadel Twilight, tp, ?,?,? (?) | |
| | | | |
NOTES:
---
Collector's Notes
Ken Lopez: "Progeny" in IF, Nov 1954 (1st). VG. Signed by the author. Slightly faded on edges and spine. $125
Rudy's Books: "Progeny" in IF, Nov 1954 (1st). VG. $7.50
---
Credits Navigation philipdick.com Novels Short Stories References