IN MILT LUMKY TERRITORY

FIRST EDITION
1985

Dragon Press, hb, 09-1, Jun 1985, 213pp, $29.95 (Barclay Shaw) 0-911499-09-1 {limited to 950 copies}{first cover picture}

Also: half-leather. An edition of 50 with tipped-in PKD signature, $100 {second cover picture}

1985
Gollancz, hb, 03625-7, Oct 1985, 213pp, L8.95 (?)
HISTORY
The manuscript for IN MILT LUMKY TERRITORY reached the SMLA on Oct 8, 1958. One cannot say that the Agency was pleased to see it although the reader there found it "real and warm, if not inspired." But once again despite Herculean efforts by the Agency this novel was rejected twelve times over the next few years before the SMLA returned it with regrets to PKD in 1963 as unsaleable.
Undoubtedly this continuing rejection was incomprehensible to PKD. In this novel he had tried to address some of the complaints against his straight stories saying in the Author's Foreword
This is actually a very funny book, and a good one, too, in that the funny things that happen happen to real people who come alive. The ending is a happy one. What more can an author say? What more can he give?
Well, it wasn't enough. The publishers could find little humour in MILT LUMKY; an editor at Crown Publishing, Arthur C. Fields, wrote the Agency in 1959 when they rejected the story:
I don't know what to say about Philip Dick. He has extraordinary talent, tremendous facility, and acute penetration. He is able to lay bare the essential core of a situation in a few deft strokes. He has a flamboyance and an extraordinary eye for detail. The problem: His outlook on life, which is bleak and as chilling as any it has been my misfortune to come across.... What he does is to write in flat understatement a detailed analysis of the emptiness of everything so that the writing takes on an emptiness itself... We have seen three of these now, and they all have the same vacuum-like outlook.
Of the story itself, Philip K. Dick had this to say in a letter to Eleanor Dimoff in 1960:
Virtue fails. Ambition, without experience, falls to dust. The clever and neurotic win -- a woman who is unable to trust anyone else, another person's judgment, and a bitter salesman, Lumky, who begrudges a younger man his success in marrying a woman that he himself wanted. The heavenly city of the rational man, the optimistic man, falls down, leaving the real world exposed. No one can be trusted, because everyone is too fearful to behave honestly; no one is disinterested. Only in fantasy -- in Bruce's dreams -- is there a little white cottage with roses twining up it. Once a boob, always a boob. Once burned, twice burned; if you make a mistake it is a sign that you are one of the doomed. Better give up; leave the gaming table. Gambling is for professionals; the sucker will be taken to the cleaners. And it is your wife and your best friend who will do the fleecing, not some con man you never saw before; the enemy is right at hand.
IN MILT LUMKY TERRITORY wasn't published until June 1985 when David Hartwell at Dragon Press in New York published a limited edition. Gollancz in England soon followed with an edition in October and a trade paperback edition from Paladin Press came out in 1987. The novel also has editions in France, Italy and Germany.
IN MILT LUMKY TERRITORY rates ô ô ô
---
OTHER EDITIONS Click Here For Cover Pix: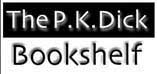 Paladin, tp, ?, 1987, 213pp, £3.95 (?) 0-586-08602-1
FOREIGN EDITIONS
| | | |
| --- | --- | --- |
| | | ?, ?, ?, ?, ?, ? (?) {tr. into French as AUX PAYS DE MILTON LUMKY} |
| | | |
| | | Phantasia, ?, ? 1996, 274pp, DM 78, (?) {tr. into German by Joachim Korber as IN MILTON LUMKY LAND} |
| | | Einaudi Tascabili, pb, Vertigo 614, 1999, ?, ? (?) {tr. into Italian as TEMPO FUORI OSTILE} |
NOTES
SL-38 59:
IN MILTON LUMKY TERRITORY. Virtue fails. Ambition, without experience, falls to dust. The clever and neurotic win -- a woman who is unable to trust anyone else, another person's judgement, and a bitter salesman, Lumky. who begrudges a younger man his success in marrying a woman that he himself wanted. The heavenly city of the rational man, the optimistic man, falls down, leaving the real world exposed. No one can be trusted, because everyone is too fearful to behave honestly; no one is disinterested. Only in fantasy -- in Bruce's dreams -- is there a little white cottage with roses twining up it. Once a boob, always a boob. Once burned, twice burned; if you make a mistake it is a sign that you are one of the doomed. Better give up; leave the gaming table. Gambling is for professionals; the sucker will be taken to the cleaners. And it is your wife and your best friend who will do the fleecing, not some con man you never saw before; the enemy is right at hand.{PKD > Eleanor Dimoff, Feb 1, 1960}
See TTHC 304
See TTHC 311: {Arthur C. Fields to SMLA, Apr 16, 1959}
---
COLLECTOR'S NOTES
Phildickian: IN MILT LUNKY TERRITORY, Gollancz, hb, 1985. VF/VF $150
---
Credits Navigation philipdick.com Novels Short Stories References